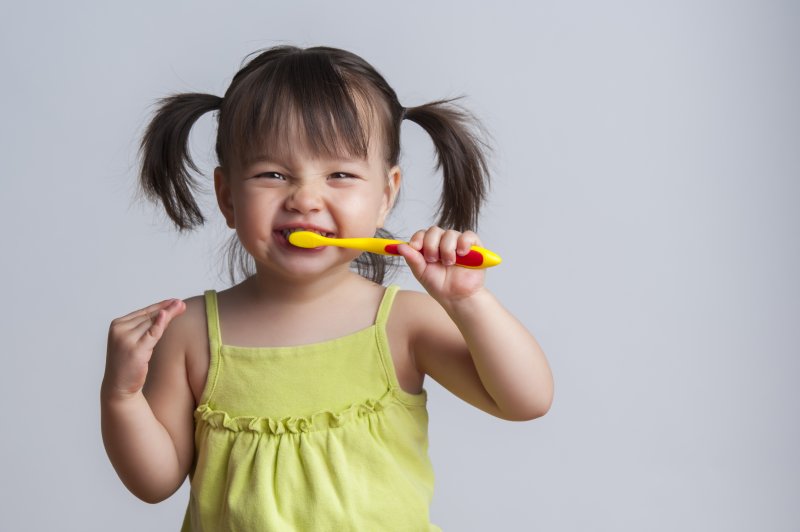 As a new parent, you may be unsure as to when you should start brushing and flossing your child's teeth. With so much information available on the internet these days, it can be difficult to know which advice to follow. Fortunately, a local pediatric dentist is here to explain why taking a proactive approach to your children's oral health in Garland is important and why you shouldn't wait until their pearly whites come in to start the process. Read on to find out what steps you can take to set your child up for a healthy, beautiful smile as they grow.
The Brushing Process: When to Start
Although you shouldn't expect to see your child's first tooth until they are between 6 and 12 months of age, you can start the process of caring for their oral health by using a damp washcloth to gently wipe their gums after feedings. Once those first few teeth begin to erupt, you'll want to use a finger brush and smear of toothpaste (the size of a grain of rice) twice a day to keep them clean. As they get older, switching to a soft-bristled toothbrush will ensure a more thorough clean throughout their mouth.
Once your child becomes more interested in taking on the task themselves, you'll need to observe and help them reach the areas of their mouth that are difficult to brush (i.e., premolars and molars). It's also imperative that they use the appropriate amount of toothpaste, so you'll likely want to help them get started with their oral hygiene routine every morning and night.
What is the Correct Way to Brush Their Teeth?
The process of brushing isn't difficult, but you should be mindful to not brush too hard. If you want to make sure your child's teeth are thoroughly cleaned, follow these helpful steps:
If your child is between the ages of 0 and 3, use a smear of toothpaste. Once they are 3 and older, you can begin to apply a pea-sized amount to their toothbrush.
After wetting the brush, position it at a 45-degree angle and begin to gently move the brush back and forth along each tooth. You'll need to make sure you clean the front, back, and chewing surfaces of their teeth.
To adequately clean their front teeth, position the brush vertically to remove bacteria and food particles from the front and back.
Be sure to run the brush over the surface of your child's tongue to remove any harmful bacteria.
It is best to do this for two full minutes twice a day, and you can incorporate fun activities to make brushing more enjoyable for your little one. Whether it is making it a family affair and brushing with them, turning on some music, or making it into a game, your child's pediatric dentist in Garland can provide additional tips.
Once your child's teeth begin to touch, you'll need to start flossing at least once a day. It may be helpful to use floss picks instead of regular dental floss to make the process easier for you and your child.
By keeping these helpful tips and techniques in mind, you can set your child on a healthy path to optimal oral health.
About the Author
Dr. Adam Preece is a board-certified pediatric dentist who earned his dental degree at The Ohio State University. Passionate about young, growing smiles, he completed a two-year residency in pediatric dentistry at Women and Children's Hospital in Buffalo, NY. He is currently a staff member at Children's Health Dallas/Plano. Dr. Preece and his colleagues believe in starting good oral hygiene habits at an early age, which is why they work with parents to establish healthy techniques to ensure tooth decay and gum disease stay away. For additional daily tips or to schedule a checkup, visit our website or call (972) 364-7472.