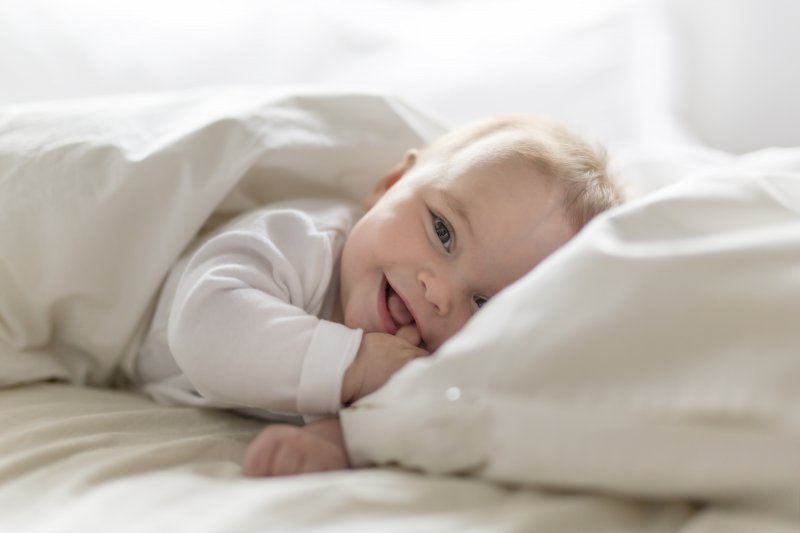 As a new parent, it can be anxiety-inducing not knowing what to expect from your child's growing smile. When do their teeth come in? How should you handle teething? When should they visit the dentist? If you've found yourself with more questions than answers, read on for a complete guide to baby teeth so you can know what to expect and how to best protect their smile.
Most Babies Develop Teeth Between 6 and 12 Months
Although each baby is unique, you can expect their first tooth to poke through between 6 and 12 months old. Typically, their lower front teeth are the first to come in, followed by their upper ones and their remaining primary set. While they likely won't have all their baby teeth until about age 3, it is a good idea to schedule their first visit to the dentist when their first tooth emerges or by their first birthday.
When They Begin Teething, Try Using These Tactics to Ease Their Discomfort
Shortly before your little one's teeth emerge, they may experience symptoms of teething, including swollen gums, excessive drool, and discomfort stemming from their mouth. To ease their distress, try gently massaging their gums with a clean finger. A few other safe, effective tactics include offering a clean, cold washcloth, non-liquid-filled teething ring, or slushy applesauce for them to chew on. Just make sure to avoid teething tablets, amber teething necklaces, and gels with benzocaine since the Food and Drug Administration has issued warnings against them.
Ways to Prevent Tooth Decay Throughout the Years
Tooth decay is one of the most prevalent concerns facing Americans today. In fact, it is second only to the common cold! Unfortunately, it can impact your child's smile as soon as their first tooth emerges, which is why prevention is paramount. Therefore, make sure to implement the below best practices:
Begin their bi-yearly trips to the dentist once their first tooth emerges.
Brush their teeth twice a day with a baby toothbrush and smear of toothpaste.
Begin flossing their teeth as soon as two teeth touch.
Limit sugary foods and beverages that can harm their teeth and gums.
How Their Pediatric Dentist Can Help
If the pressure to care properly for your child's smile is becoming overwhelming, it is important to remember that a pediatric dentist is your greatest ally! They have extensive training in caring for growing smiles, and they can provide you with guidance on best practices for each phase of your little one's life. Plus, they can share recommendations, perform cleanings, and address any warnings signs before they become problematic. So, if you haven't already scheduled an appointment, there is no time like the present to do so!
About the Practice
Led by two board-certified pediatric dentists, The Dental Specialists – Pediatric Dentistry is where kid and parent-friendly exam rooms, the safest dental technology, and multi-special care come together for one truly exceptional dental experience for your family. Whether it's your little one's first appointment or they need a professional cleaning for their senior portraits, you can have peace of mind knowing their smile is in the best hands. If you are looking for a pediatric dentist for your child, don't hesitate to visit their website or give them a call at 972-364-7472.