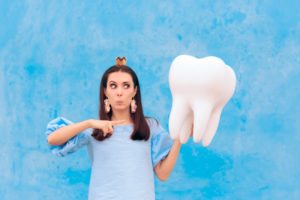 It's important to teach your son or daughter how to properly care for their teeth and gums. However, it's not always easy! If you are looking for ways to get your little one more excited about their oral health, try introducing them to the Tooth Fairy! This fun tradition is an excellent way to infuse some childhood magic and fun into the process of developing lifelong healthy habits. Here are five ways you can teach your son or daughter how to keep their precious smile healthy with the Tooth Fairy in Garland.
1.) Healthy, Sparkling Teeth Are the Tooth Fairy's Favorite
As you introduce your little one to how the Tooth Fairy works, remember that you make the rules. A great way to get your child more invested in their oral health is to tell them that the Tooth Fairy prefers healthy teeth. In fact, she may even offer an extra quarter, a new toothbrush, or some other small gift for teeth that have been brushed and flossed regularly.
2.) The Tooth Fairy Is Friends with Your Dentist
It's not uncommon for children to feel a bit anxious about visiting the dentist. You can help make their dental checkups less intimidating by telling them that their dentist is a friend of the Tooth Fairy. Associating their dentist with the friendly sprite who rewards them for healthy teeth can help them form a better impression of oral health care. Consider having the Tooth Fairy recognize your child's good behavior at their dental checkups with a handwritten note or small reward.
3.) Gifts from the Tooth Fairy Can Include Fun Dental Products
While the Tooth Fairy traditionally rewards children for their baby teeth with quarters and dollars, those aren't your only options. Dental products that will make brushing and flossing more fun are also a great choice! Your little one may be excited to receive a new toothbrush with their favorite cartoon character on it, fun-flavored floss or toothpaste, or a children's book about oral health.
4.) Make a Habit Tracker to Show Off to the Tooth Fairy
Create a habit tracker with your son or daughter to help them visualize their progress. Giving them a sticker for every day that they brush and floss can help motivate them to keep up these healthy habits and earn a sense of pride in their accomplishments. They can even leave out their habit tracker to show off their progress to the Tooth Fairy, who may want to reward them for reaching certain milestones!
5.) Give the Tooth Fairy "Santa Claus Powers"
Try as you might, it's likely that your little one won't always be excited about brushing or flossing their teeth. If you're having trouble keeping your child engaged with their healthy habits, you may want to give the Tooth Fairy "Santa Claus powers." After all, she sees you when you're brushing, she knows when you don't floss! She may leave them a handwritten note reminding them that dental habits are important for a shiny, cavity-free smile.
Eventually, your son or daughter won't believe in the Tooth Fairy anymore. However, the lessons and great oral hygiene habits she teaches can help give them years of happy, healthy smiles!
About the Practice
Your child deserves compassionate, high-quality dental care from an experienced Garland pediatric dentist. At The Dental Specialists Pediatric Dentistry, we're proud to have a team of two highly trained pediatric dentists and a board-certified anesthesiologist. With their combined specialties and years of advanced training, they aim to care for all the unique needs of a growing smile under one roof. Alongside their stellar dental care, they will also walk you through any and all questions you may have about keeping your child's oral health on track. For more helpful and practical tips, feel free to contact them via their website or at (972) 364-7472.