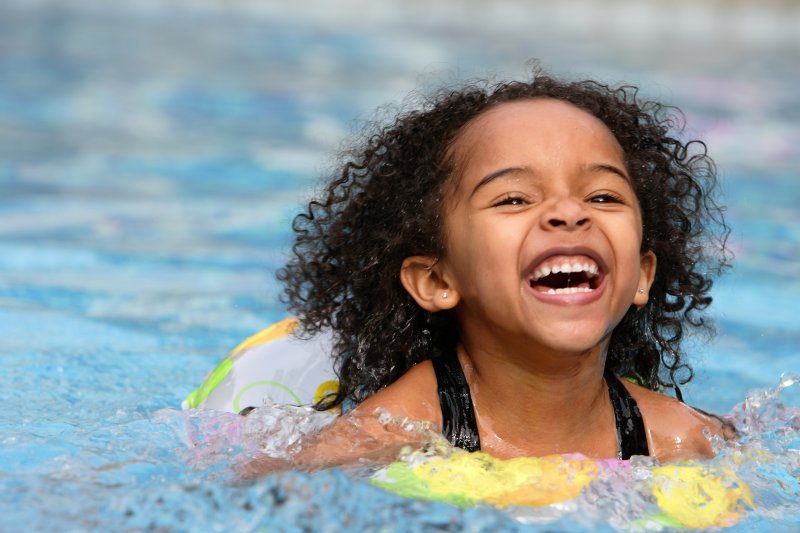 As you and your family prepare to take your dream summer vacation, it's important that you have everything you need to ensure a fun-filled getaway that is exciting, memorable, and safe. Knowing how to prevent dental emergencies in Garland will allow you to safeguard your child's smile no matter where they are or what they're doing. To help you better prepare for your upcoming trip, here are 3 things you can do to protect their pearly whites while you're away.
Make Sure Pool Time is Safe
If your child is like most, they love to swim. The sight of water has them eagerly running toward the pool with no regard for slippery decks or concrete walls. It is important that you, as the parent, pay careful attention to them during this time. A sudden fall could cause a broken or cracked tooth, as could bumping into the side of the pool while swimming. If they are not paying attention to their surroundings, they might even collide with a fellow swimmer and accidentally knock out one of their baby teeth, so be sure to monitor them at all times when they are in and out of the pool.
Choose Healthy Snacks
If you need to make one final stop at the grocery store before you leave on your trip, your child will likely be begging for their favorite candy or chips. While these are fine in moderation, it's best to make the majority of your snacks consist of healthier options. Cheese, fruits, vegetables, nuts, and lean proteins are great alternatives that will keep your little one full and minimize their risk for developing cavities while you're gone. A cookie or savory treat is fine now and then, but no matter if you're planning to drive or fly, stock up on healthier food options that will better protect your child's smile from possible decay and infection.
Brush and Floss Along the Way
If your family vacation consists of a long road trip or multiple layovers, make sure your child is brushing and flossing their teeth along the way. While consuming snacks throughout the journey, bacteria and food particles can accumulate and break down tooth enamel over time. By bringing a travel-sized toothbrush, toothpaste, and dental floss with you each time you stop, you can be sure that their smile remains free of harmful bacteria that might lead to cavity formations and serious toothaches.
Don't let your next family vacation result in time spent in an emergency dental office. Instead, follow these simple tips and talk to your child's pediatric dentist in Garland about what you can do to ensure their teeth and gums stay healthy while you're away from home.
About the Author
Dr. Adam Preece is a board-certified pediatric dentist who earned his dental degree at Ohio State University. Passionate about young, growing smiles, he completed a two-year residency in pediatric dentistry at Women and Children's Hospital in Buffalo, NY. He is currently a staff member at Children's Health Dallas/Plano. Dr. Preece and his colleagues understand that not all dental emergencies are avoidable; however, there are ways you can minimize the risk of your child suffering a broken or knocked-out tooth. If you are preparing to leave on vacation and want helpful tips to ensure the safety of their smile, visit our website or call (972) 364-7472.