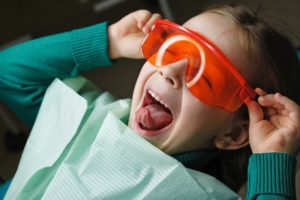 Your child is the most important person in your life, and pediatric dentists completely understand that. Before making a decision, like whether or not to say "yes" to putting dental sealants in Garland on your child's teeth, it makes complete sense that you'd want any questions you may have answered first. For your peace of mind, read on to learn the top four frequently asked questions that pediatric dentist's get from parents, answered.
Will getting sealants hurt my child?
You'll be happy to know that getting dental sealants from their pediatric dentist in Garland will not hurt them at all. The process is completely pain-free. First, their teeth will be thoroughly cleaned, so that debris and plaque doesn't become trapped beneath the sealant. Then, their tooth will be thoroughly rinsed and dried. Next, the dentist will brush a thin, clear coating over their molars, and finally, shine a UV light onto the coating to get it to harden.
What do dental sealants look like? Will they be noticeable?
Dental sealants can be completely clear, white, or slightly tinted, but you should not be able to see them whenever your child talks or smiles.
At what age should my child get sealants?
Sealants are only placed over the top of the biting surface of molars, so in order to have them placed, your child must first have their molars grown-in. Typically, children get their 1st molars around when they turn six, and their 2nd molars by the time they turn 12.
Can sealants be placed over cavities?
Sealants do not treat cavities, they simply protect your child's molars from dental decay. That being said, they can be placed over teeth that have treated cavities as an additionally layer of protection to prevent further damage from occurring to that tooth. Because most dental sealants are clear, your child's pediatric dentist will easily be able to keep an eye on the decay that's underneath the sealant to make sure that it's not spreading.
Is there BPA in dental sealants?
There is a small amount of BPA (Bisphenol A) in dental sealants, but it's not enough to cause your little one any harm. This is a chemical that's used to make resins and allows for the substance to take on a hard, protective shell that keeps your little one's molars shielded from harmful oral bacteria and plaque. It's said that people get more exposure from BPA by touching a receipt and coming into contact with dust than getting a dental sealant. If you have any concerns about the ingredients in dental sealants, don't hesitate to ask your child's dentist for more information.
Dental sealants are an excellent way to keep your child's smile cavity-free as they're learning how to properly brush and floss their teeth. With assurance that your child's grin is healthy, you'll be able to rest easier!
About the Author
Dr. Adam Preece loves teaching little ones about the best ways to take care of their smiles, and he's passionate about working with parents to develop healthy habits for their children to optimize their oral health. He has over a decade of experience under his belt as a Board-Certified Pediatric Dentist, and as a father himself, he understands parent's concerns and is happy to address them in detail. For questions or to schedule an appointment for your little one, visit The Dental Specialists Pediatric Dentistry's website or call 972-364-7472.